What is Urology
Urology is a surgical subspecialty that specializes in disorders of the genitourinary tract. Urologic conditions affect both sexes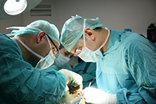 accross all age groups. Further sub-specialization include urologic oncology, endourology, andrology/reproductive urology, pediatric urology, neurourology, gynecologic urology, and reconstructive urology.

All of our providers are general urologists who take care of all urologic conditions. However, when there are complex conditions, we refer to ourselves to the physician who can best address your specific condition. We strive to provide you the best of the standard of care, and to get to you the physician with the most experience within that area of expertise.

ENROLLING SUBJECT FOR ONCOLOGY RESEARCH

VUA's sister division in AZCCC - Pinnacle Oncology, is a physician-led group that facilitate oncological medical research in the medical oncology. Pinnacle Oncology became aligned with HonorHealth Research institute in 2017 expanding the scope of research into cutting edge cancer therapy. There are a variety of trials that are accruing patients, and if you are interested, please contact us for more information or visit their site. Learn More


Adult Urology
We treat a variety of conditions that encompass both male and female sexes of all ages. In the adult population some of the common conditions we treat include, but are not limited to: benign prostatic hyperplasia, (BPH; enlarged prostate), bladder cancer, bladder control problems, erectile dysfunction (impotence), female sexual dysfunction, hematuria (blood in the urine), interstitial cystitis (pelvic pain syndrome), kidney cancer, kidney stones, male infertility, peyronie's disease (penile curvature), prostate cancer, prostatitis, sexually transmitted diseases (STDs), testicular cancer, testosterone deficiency, kidney urothelial upper tract tumors, penile cancer, urinary incontinence (leakage with coughing), recurrent or complicated urinary tract infections, vaginal prolapse, infertility and varicoceles. Learn more
Pediatric Urology

Dr Donovan is a fellowship trained Pediatric Urologist and specializes in all areas Pediatric Urology. His expertise includes complex urethral reconstruction, Laparoscopic and minimally invasive surgery includiing Laporascopic Pyeloplasty, ureteral reimplant and orchidopexy, as well as bladder reconstruction and urinary diversion.Learn more



Patient Handouts

Getting set up for a procedure, and need to know the specifics, we have the handouts to improve your experience and to help you with recovery.
Read more